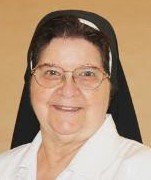 Sr. Barbara Armstrong
Sister Barbara Armstrong, formerly known as Sister Thomas Aquinas, Sister of Christian Charity, entered eternal life on April 3, 2021 at the Motherhouse in Mendham, NJ at the age of 86.
Sister Barbara was born in Poughkeepsie, New York on November 13, 1934, to her loving parents Thomas and Mary (Kopser) Armstrong. Sister attended Nativity of Our Lord Grade School in Poughkeepsie, NY. In 1949 Sister Barbara attended Immaculata High School Juniorate of the Sisters of Christian Charity in Mendham, NJ. At the completion of high school Sister entered the Community of Sisters on June 7, 1951, professed her First Vows on August 21, 1954, and her Final Vows on August 20, 1960.
Over the years Sister Barbara enjoyed teaching in elementary schools in Scranton, PA, Harrisburg, PA, Reading, PA, Allentown, PA, Jim Thorpe, PA, Kingston, NY, and Bronx, NY. In the Bronx Sister taught Special needs children for 12 years. Following those years Sister became a Principal at St. Aloysius School in Philadelphia, Principal at St. Joseph School in Harrisburg, and Vice-Principal at Immaculate Conception in Bronx, NY. In 1999, Sister continued in ministry with joy and enthusiasm in Danville, PA until her retirement in 2013. Sister Barbara moved to the Motherhouse in Mendham, NJ, in May of 2018.
Sister Barbara is survived by her cousin, Sister Mary Joseph Schultz, Sister of Christian Charity, her sister Louise Mensler, Poughkeepsie, NY, sister Mary Hart, Johnstown, NY, brother Charles, Rosendale, NY, brother Joseph (Mae), Poughkeepsie, NY and several nieces and nephews.
Sister was pre-deceased by her brother Thomas, Marietta, GA, brother John (Maureen),Jupiter FL, brother George, sister Margaret, and brothers-in law Douglas and Robert.
Private Liturgy of Christian Burial will be celebrated at the Motherhouse on Wednesday, April 7 at 11:00 AM. Interment to follow in the Motherhouse cemetery.
Memorial donations can be made in memory of Sister Barbara to the Sisters of Christian Charity 350 Bernardsville Rd, Mendham, NJ 07945.
Funeral arrangements are handled by Bailey Funeral Home of Mendham.