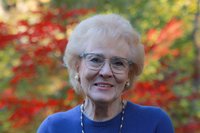 Norma A Rahn
Norma was born in Camden and grew up in Audubon, NJ. She was the only child of Arthur and Liselotte Erler. She graduated from Audubon HS and attended the Philadelphia College of Art majoring in Fine Arts and illustration. She moved to New York City and studied at the Art Students League, Pratt Institute and The School of Visual Arts. Norma worked in Manhattan at several art studios where she designed brochures, book jackets, album covers and best of all, met her husband, Edward.
Norma and Ed married and relocated to Bernardsville, NJ where "Rahn Studio" opened its doors in the 1970's, which is also when the family joined Millington Baptist Church. Norma was on the MBC Board of Deacons and assisted in designing church bulletins and brochures. Norma and Ed designed brochures, ads, logos and marketing material for major companies like Ortho, Merck, J&J, AT&T and Bell Atlantic. Norma transitioned from freelancing to become the graphic designer and school director for the Center for Contemporary Art, retiring at age 85 in September 2021. In her lifetime Norma traveled to Italy, France, Germany, England and the Caribbean where she sketched and painted to her heart's delight, but her favorite place on earth was her own back yard. She loved her pets - horses, dogs, cats, ducks and parakeets. Norma was still sketching until a week before she lost her battle with an aggressive kidney lymphoma - only four months after the diagnosis.
Norma is survived by her daughter Dr. Jennifer Rahn; daughter Suzanne Rahn and her children Zak, Zoe, Zane and Zasha; Stepdaughter Marianne Rahn-Ericson and her children Nils and his family and Niklas and his family.
The family is planning on restoring an outdoor fireplace in memory of our beloved mother/grandmother. Our "island fireplace" was the heart of all of our celebrations and picnics. Norma loved entertaining outdoors! Age and weather have taken a toll on the structure and it needs major repairs. In lieu of flowers, if you would like to contribute to this project in Norma's memory, please contact Suzy at rahnstudio@comcast.net
A funeral service will be held at 3 PM on Wednesday, February 17, at the Millington Baptist Church.
For those wishing to attend, please register on the following site ~
https://onrealm.org/millingtonbaptist/PublicRegistrations/Event?linkString=ZjM3NDI2Y2EtM2EwNS00MmEzLTk0ZjEtYWNkMDAxNTYxMTk2
For those wishing to view the service remotely, please use the following link: