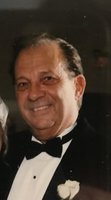 Horst C. Ammon
Horst C. Ammon, 87, passed away peacefully at home on January 15, 2021 surrounded by his beloved wife of 61 years, Dolores and loving family.
Born in Newark, NJ, to parents Gustav and Luise (Kasten) Ammon, he proudly served his country in the US Navy on the USS Hissem. Horst and Dolores lived in Mendham for 35 years where they raised their family before moving to Green Township in 2007. He worked as a tool maker and owned and operated his family business, Ammon Mold & Tool in Randolph, NJ with his 3 sons for 22 years. Horst was a lifetime member of the Mendham Pastime Club, joining in 1972. An avid Devil's fan, Horst loved watching hockey and spending time outdoors. He was very active and enjoyed bowling, skiing, fishing, tending to his vegetable garden, taking trips to Atlantic City and doing home improvement projects. His most beloved hobby of all was cutting and splitting firewood.
He is survived by his wife Dolores Ammon; children Christopher (Debra) Ammon, Scott (Wendy) Ammon, Susan (Robert) Wanamaker and Steven (Michelle) Ammon; cherished grandchildren Kyle, Kevin, Kyra, Kaitlyn, Ryan, Gregory and Drew. He was predeceased by his parents and sister, Edith Baumann.
Visitation will be held on Tuesday, January 19 2021 from 4-7 PM at Bailey Funeral Home, 8 Hilltop Rd, Mendham, NJ. A private family service will be held, and Horst will be laid to rest nearby in Hilltop Cemetery. In lieu of flowers, donations in Horst's memory may be made to the charity of your choice
Due to the Covid-19 executive orders please be mindful that all gatherings must follow strict capacity limitations.
At the visitation we kindly ask that you pay your respects and be mindful of the time to give others an opportunity to do the same.
Face coverings are required inside all buildings.