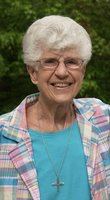 Rose Jean Gemme Young
Rose Jean Gemme Young, affectionately known as "Nee," passed away at home on January 6, 2021, surrounded by her loving family. She was 97 years young.
Rose Jean was born in Vincennes, IN to parents Diod and Rose (Lanham) Finical. She lived many places including Manchester and East Hartford, CT before settling in Bedminster, NJ in 1989.
"Nee" loved music, dancing, musicals, reading, and doing crossword puzzles, but her biggest joy and accomplishment was her family. She looked forward to her family's annual Cape Cod trip, and she adored her children, grandchildren, and great-grandchildren. Over the years she attended thousands of sports games, concerts, and activities cheering her family on. She never missed an opportunity to show up and be there for the ones she loved. To know her was to love her, and "Nee" lit up every room that she entered - sometimes just with her presence and sometimes by dazzling everyone with her tap dancing and full split! She danced the Alley Cat, she played the spoons, but most of all, "Nee" loved being with her treasured family.
Rose Jean is predeceased by her parents, siblings Helen and Bud, and her son-in-law, Glenn Braunhardt. She is survived by her beloved husband of 31 years, Robert Gaines Young, children Donna (Rick) Brooten, Emmet Gemme, and Lynette Braunhardt; stepchildren Suzanne Young, Cynthia (Ray) Steitz, and Jonathan Young; grandchildren Tracey (Pat), David (Alex), Darcey, Fitz, Jennifer, Kristen (Loren), Heidi (Chris), Kyle (Lauren), Chris (Elise), Emily, Julia, Allison, John, and great-grandchildren Olivia, Bryce, Fia, Knox, and Leo.
In lieu of flowers or donations, honor Rose Jean's memory by smiling at everyone you see, spending time with family, and singing a "toe-tapping good" show tune. Say 'thank you very kindly' and 'you have been most gracious' to those you meet and live each day with love, grace, and gratitude. Rah-yay, Nee! We love you!