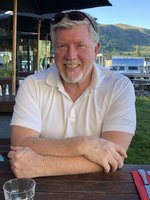 James E Carroll
James Edward (Jim) Carroll, 60, of Mendham, NJ, passed away on January 8, 2021.

Viewing will be held at Bailey Funeral Home, Mendham NJ on Tuesday, January 12th​ ​from 4-8pm. The family will be having a private memorial service for Jim.

Jim was born in Brooklyn, NY to James and Margaret Carroll on December 11,1960.

He went to high school at St. Peter's Boys High School and graduated in 1978. He went on to earn a degree in Marketing with a minor in Computer Science from Fairleigh Dickinson University. He worked as a Global Account Manager for​ ​VMWare for fourteen years. He enjoyed golfing, skiing, working out, traveling, reading, and talking late into the night with his friends.

Jim​ ​is survived by his wife Patrice Carroll of Mendham, NJ, his son's Colin Carroll of Redondo Beach, CA, Connor Carroll of Los Angeles, CA, and Sean Carroll of Wellington, New Zealand, his brothers Brian Carroll of Albany, and Sean Carroll of Snohomish, WA, his sister Margaret Carroll of Berkeley Heights, NJ, and his father James Carroll of Staten Island, NY.

Memorial donations may be made to the World Resources Institute.
Due to the Covid-19 executive orders please be mindful that all gatherings must follow strict capacity limitations.
At the visitation we kindly ask that you pay your respects and be mindful of the time to give others an opportunity to do the same.
Face coverings are required inside all buildings.