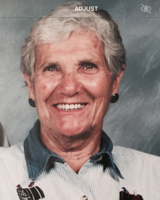 Betty Bergman
ELIZABETH (BETTY) N. BERGMAN
96, Longtime Mendham Resident,
Teacher and Coach
Betty Bergman passed away peacefully with her family at her side on December 12, 2020 at the Merry Heart Nursing Home in Succasunna, N.J. She was born and lived much of her early life in North Arlington, N.J., before her marriage to Bill Bergman and moving to Mendham in 1945.
Mrs. Bergman was employed by Mutual Benefit in Newark as an actuary. Betty was a wonderful, family orientated mother, raising three children. She served the local community and Hilltop Presbyterian Church in many positions before taking a teaching and coaching position at St. John Baptist School in Mendham. She served many years in the Women's Auxiliary of the Mendham Fire Department. Many will remember her as a lifeguard and swimming instructor at the Mendham Mountain Valley Pool.
Betty was an avid sports enthusiast, participating in local tennis and golf. Betty and Bill traveled and camped together for many years. They were always in attendance at their children's and local sport events.

Betty was predeceased by her husband of 71 years, Bill, and her sister, Virginia. She is survived by one sibling, Jason Newton, two sons, Willard, Jr. (Kathleen) and Bruce (Ellen), her daughter, Jane, five grandchildren, Tom Bergman, Jenny, Dennis and Marc Bergman, and Kim Barrineau, eight great grandchildren and two great, great grandchildren. She is also survived by many nieces and nephews, including her especially close niece, Cynthia Barkman.
A graveside service will be held on Tuesday, December 15, 2020 at the Mendham Hilltop Cemetery at 10:30 a.m.
In lieu of flowers, consider charitable contributions in Betty's memory to the Mendham Volunteer Fire Department or the Hilltop Presbyterian Church.