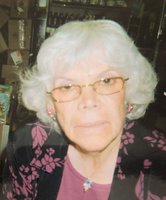 Marie J. Szucs
Marie Szucs passed away surrounded by her loving family on December 8, 2020. She was 87 years old.
Born in New York, NY, to parents Mariano and Pauline (Lombardi) Fili, Marie was a lifelong resident of Astoria, Queens, before moving to Morristown, NJ, to be closer to her family in 2017. She was a parishioner of Our Lady of Mount Carmel Church during her time in Astoria.
Marie was an outgoing woman who loved to socialize, making friends everywhere she went. She was a skilled homemaker and diligent, doting mother and grandmother. Her biggest accomplishment was her family and Marie was very proud of her son, grandchildren, and great grandchildren.
Marie is predeceased by her husband, Andrew Szucs, and is survived by her son Dr. Paul A. Szucs of Mendham, NJ, grandchildren Frank, Roman, and Paula and four great grandchildren.
Marie will be laid to rest with her mother in St. Charles Cemetery in Farmingdale, NY. In lieu of flowers, donations in Marie's memory may be made to St. Jude Foundation.