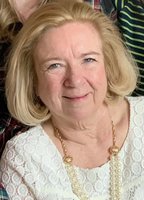 Ann Christine Cole
Ann Christine (McMurrough) Cole passed away on December 6, 2020. She was 68 years old.
Born in Queens, NY, Ann grew up in Livingston, NJ, and attended Livingston High School and graduated from Ladycliff College in Highland Falls, NY. After starting a family in Livingston, she made a home in Mendham, NJ for over 20 years. She has also lived in Bridgewater, NJ and most recently in Bridgeport, CT. She was a faithful parishioner of St. Joseph Catholic Church during her time in Mendham and St. Pius X Parish in Fairfield, CT.
Ann was a shining example of strength and grace and was determined to make the most of every day. A devoted friend, she touched the lives of so many with her kindness, generosity, good humor, and radiant smile. A woman of strong faith, Ann lived her life in service to others. She raised her daughters with great care and unconditional love and was always the first to volunteer as class mother, Girl Scout leader, and director for the Vacation Bible School program and Children's Liturgy at her parish for many years. Ann was a proud member of Port 5 in Bridgeport and the Gaelic American Club in Fairfield. She drew great joy from her work as a receptionist, most recently at the Fairfield Social Services Department.
Ann will be reunited in Heaven with her beloved husband Steven A. Cole, her parents Robert and Christina (Peat) McMurrough, and her brothers William and Robert. She is survived by her daughters, Cristin and her husband Jonathan Kral of Fairfield, CT and Maureen and her husband Russell Martonis of Stratford, CT, her cherished grandsons Brendan, Ryan, Colin, and Matthew, her sister-in-law Marilyn Atkinson of Vero Beach, FL, and many nieces, nephews, cousins, and dear friends. She will be missed sorely by all.
Ann will be laid to rest at Hilltop Cemetery with her husband. When it is safe to, a larger celebration of Ann's life will be held. Due to the Covid-19 pandemic, her funeral service this week will be private. Friends are invited to view the mass online Thursday, December 10 at 11am EST. To attend please click here
In lieu of flowers, donations in Ann's memory may be made to the National Multiple Sclerosis Society or to the Fairfield Social Services Department.