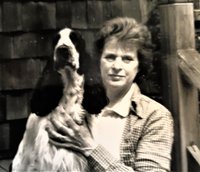 Constance Eleanor Vanacore
Constance Eleanor Vanacore passed away peacefully on October 14, 2020. She was 90 years old.
Born April 21st, 1930 in New York, NY to parents Bertram and Eleanor Constance (nee Green) Boardman. Constance was raised in Manhattan before moving to Mendham, NJ to raise her family. Constance and her husband Fredrick spent their summers at their second home in Long Lake, NY.
Constance attended and graduated from Barnard College. Once finishing school, she pursued her hobby of breeding dogs, especially Irish Setters, as a career. While authoring five books about her love of dogs, she was very active in The Irish Setter Club of America. Constance was a freelance writer and featured editor for many magazines including the American Kennel Club Gazette. Connie was also a member of the Mendham Women's Auxiliary to the Ralston Fire Company where her husband served.
Constance is predeceased by her loving husband of 62 years, Fredrick Thomas Vanacore. She is survived by her daughter Patricia Vanacore, son Thomas Vanacore, grandchildren Jessica Constance, Shannon Rose, Tara, Michael, Emma Rose, Joseph and Casey, and great grandchildren Moss- Moses, Cedar, Elijah, Malachi, Micaela, Sequoia, Silas and Vera.
A memorial service will be held in the Adirondacks at a later date. In lieu of flowers, donations in Constance's memory may be made to:
The Irish Setter Club of America 34553 Deerwood Drive, Eugine, OR 97405 attention Jay Zirkle
Ralson Engine Company No 1, 322 Mendham Rd W, Mendham, NJ 07945
Cornelia Vanderbilt Whitney Long Lake Public Library, 1195 Main St PO Box 533, Long Lake, NY 12847.