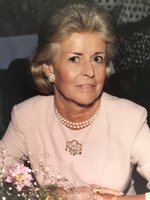 Mary Winston Daly
Mary Winston Daly, formerly of Gladstone, New Jersey passed away peacefully at The Chelsea at Bridgewater on August 16, 2020. She was 89 years old.

Mary, known as Mimi by family and friends, was born in New York City on April 10, 1931 to Honora Winthrop Mason and John Lloyd Winston. After her mother
died, she was very close to her grandparents Margaret Lloyd and Owen Winston, of Gladstone and her great grandmother, Mrs. Francis G. Lloyd of Bernardsville.

Mimi grew up on Mt. Paul Farm in Gladstone with her loving stepmother, Anne Hostetter Winston and General John L. Winston. She spent the majority of her
life in Gladstone where she raised her three children. She served on the Board of Trustees of Far Hills Country Day School which she, and later, her children,
attended. She graduated from The Spence School In New York City and attended Bennett College in Millbrook NY and studied at the New York School of
Interior Design. Mimi had a long and successful career in interior decorating, working with clients from Hobe Sound to Sun Valley as well as locally, and
throughout New England. She had a keen sense of design and a sought-after signature style.

Known for her sense of fun and loyalty to beloved friends and family, she enjoyed the piano, loved to ski and spend time at the beach with her family and was a
superb hostess. In later years, she played bridge regularly with friends.

She is survived by her three children, Lynn Ehrenclou Blagden of Shoreham, VT, John Winston Ehrenclou of Far Hills and James Harding Ehrenclou of Los
Angeles, CA; her sisters, Jennifer Winston Pierson of Pottersville and Deborah Winston Callard of Baltimore, MD; six grandchildren; six great grandchildren and
was predeceased by husbands, John O. Ehrenclou and Edward Daly and grandson, Logan Lloyd Ehrenclou.

There will be no service at this time; however, there will be a celebration of her life when it is safe to gather together again. In lieu of flowers, donations may be
made in Mimi's memory to a charity of choice.