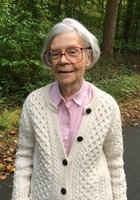 Elizabeth Segers
Elizabeth Harrison Segers passed away peacefully at home surrounded by her children on Saturday, August 1, 2020. She was 92 and enjoyed wonderful health until a brief recent illness.
Born on Leap Year in 1928, she was the daughter of Thomas P. and Florence B. Harrison. She was raised in New York City's Jackson Heights neighborhood of Queens, where she attended schools in Queens and Brooklyn. Later she studied English literature at The College of St. Elizabeth's in Convent Station, New Jersey where she graduated with honors.
As a young adult in New York City, she volunteered at The New York Foundling Hospital and worked as an assistant at Vogue for the renowned photographer Irving Penn, where she first developed a love for interior design. Her home was her canvas and it reflected her artist's eye in color, texture and design.
While in New York, she met and married Richard G. Segers, who had recently completed his Ph.D. in mathematics. They settled in New Providence where he began his career at Bell Labs. They had four children, Carl (Judy) of Flemington, Beth of Brookline, MA and Kittery Point, ME, Alexandra (Joseph) of Ashburn, VA and Stephanie of Queens, NY. The family settled in Mendham in 1966, raising their family and enjoying the beauty of small-town life.
Elizabeth worked as an artist while raising her family and was also an active volunteer in many organizations. She volunteered as a Braille transcriber for many years, translating children's books, novels, and textbooks, one of which is in the Library of Congress. She also volunteered with the Visiting Nurse Association of Somerset Hills, and the Mendham Garden Club (and its offshoot, The Green Twigs), as well as with the Mendham Women's Club.
She was a member of St Joseph's Parish in Mendham, and also attended Assumption of the Blessed Virgin Mary of Morristown. She was an active member of the St Joseph Parish Committee on Human Concerns and over the years made many meals for the Father English Center in Paterson, NJ.
Her creative spirit was evident through her many drawings, watercolor paintings, etchings, sculpture, needlepoint and perennial gardens. As a young child, she summered in Cape Elizabeth, Maine and would return for many years to spend summer days in Kittery Point along the ocean.
In addition to her children, she is survived by her older sister, Patricia of Fairfax, VA, and her four grandchildren: Natalie and Charlie Segers, and Anne Marie and Katharine DeRosa. Her beloved husband Richard predeceased her in 2013. She was also a friend to many.
In lieu of flowers, donations can be made in her memory to the College of St Elizabeth at www.steu.edu or to the charity of your choice. Services will be private.