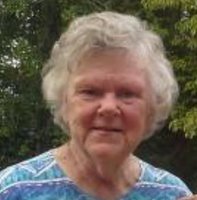 Carol Montrose
Our beloved Carol traveled from Earth to Heaven in the space of a breath to be greeted with a kiss from her husband, Ron, while wearing a blue outfit on July 22, 2020. She was 91.
Born in New Rochelle, NY, she lived in Bloomfield, NJ before moving to East Hanover in 1958 with her husband, Ronald, and their two year-old daughter, Susie.
Carol graduated from Bloomfield High School before attending Secretarial School. Carol worked as an Office Manager for 20 years for the practice of Drs. Weine and Renna in Chatham. She was active in the Order of the Eastern Star of New Jersey for 47 years. She was Worthy Matron of Livingston Chapter #271, and Lincoln Chapter #95. She was appointed Grand Officer on many occasions. Carol was a loving daughter, mother, grandmother, auntie and god-mother to numerous family members.
She is pre-deceased by her husband, Ronald Montrose, her sister Martha Montignani, her brother Joseph Gaston, her sister Jane Howe, and her son-in-law, Alanson (Jay) Bien.
She is survived by her sister, Beverly Stutzman and brother-in-law Andy, of Rochester, NY; daughter, Susan Bien of Florham Park, and two sons, Scott Montrose (married to Katherine), of Midlothian, VA and Todd Montrose, of Parsippany, NJ. She is also survived by 6 grandchildren, and many nieces and nephews.
Carol remained lifelong friends with her Bloomfield High School chums. Carol loved to sing and dance, especially the jitter bug at any opportunity. She was an avid game-player; she especially loved playing Canasta with her High School friends. As their parents aged, Carol was the caregiver to her mother, mother in law and dear friends.
Carol was devoted to her children, grandchildren, nephews and nieces. She was the original short-order cook, making hamburgers or peanut butter and jelly sandwiches on-demand for baseball games or band practices. She has baked numerous cakes and brownies - too many to count.
Carol was a hostess for many parties, picnics, wedding and baby showers and family reunions. She loved swimming in her pool and was often the first one in…no matter how cold it was! Her home has always been the gathering place.
Carol was the original NY Yankees Fan. She enjoyed watching their games while cheering the players or yelling at them for bad plays or behavior.
Carol was a member of Grace Church in Madison for over 60 years. She was a frequent volunteer for their many programs, a member of their Choir, and a Sunday School teacher, along with her husband.
Traveling outside our country and especially trips to Hawaii and Las Vegas were fun vacations.
Carol loved everything in God's green earth, birds, flowers and her cats and dogs. She loved to be outdoors.
Carol Montrose was the definition of the word Love. She freely loved everyone in her sphere. Her Goddaughter, Melanie Hunt, said "a light has gone out." Now her light, laughter and love shine in Heaven with her Lord. We are sad to lose her, but fond memories of our times together have no end.
A private family gathering will be held at Bailey Funeral Home, in Mendham, NJ. A celebration of life will be held at a later date at Grace Episcopal Church in Madison, NJ.