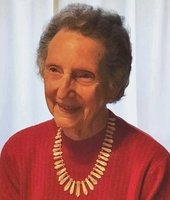 Betty Skrobacz
Betty Skrobacz passed away peacefully on July 23, 2020. She was 90 years old.
Born in Summit, NJ, to parents Charles and Marie ( nee Barr ) Frederick, Betty grew up in Meyersville, NJ and resided there after marrying her husband in 1950.
Betty graduated from Bernards High School and worked primarily as a homemaker while raising her sons before returning to work full time at Chubb Insurance in the Premium Accounts Department. Her first love was spending time with her family and being present at school productions and concerts, high school marching band performances, softball games, trips together to NYC and baking with her granddaughters. She enjoyed hosting the annual family Thanksgiving dinners.
Betty was a PTA mom, Cub Scout leader, active member of the Meyersville Presbyterian Church, member of the Long Hill Senior Citizens, member of the Long Hill Township Historical Society, long time Secretary & Trustee for the Meyersville Cemetery Association, and for many years a dedicated volunteer at Atlantic Health Systems' Atlantic Rehabilitation Institute.
Betty is predeceased by her loving husband John W. Skrobacz and her sister Eileen Grabarczyk. She is survived by her two sons, John and his wife Marcie of Stirling, NJ and Steven and his wife Amy of Meyersville, NJ as well as granddaughters Cheryl, Gayle, Elizabeth, and Julia.
Betty will be laid to rest with her husband in the Meyersville Cemetery at a private burial service. In lieu of flowers, donations may be made to the Long Hill First Aid Squad or the Memorial Fund at the Meyersville Presbyterian Church.