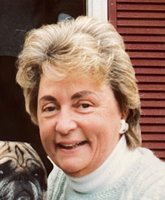 Ruth L Peterson
Ruth L. Peterson passed away peacefully on July 19. She was 91 years old.
Born in Freeport NY, to parents Walter and Ruth (nee Bissert) Briggs, Ruth lived on Long Island for most of her life. She was a resident of Brightwaters, NY, for over 30 years, before moving to Vero Beach, FL, with her husband. She has resided in Morristown, NJ, for the past two years.
Ruth was an avid reader who spent many hours lost in the pages of her mystery and romance novels. Her skills in the kitchen were revered; her signature spaghetti sauce and award-winning cheesecake were favorites among her family and friends. Her grandchildren learned well and now carry on her love of baking. Over everything, Ruth treasured her family – her husband David of 58 years, her children, and her grandchildren.
Ruth is predeceased by her loving husband, David C. Peterson, and her sister June Neumen. She is survived by daughter Robyn Brown of Mendham, son David Peterson, and grandchildren Stephanie, Cassandra, and Carl.
Ruth will be laid to rest with her husband in Fountain Hill Cemetery in Deep River, CT. In lieu of flowers, donations in Ruth's memory may be made to the David C. Peterson Memorial Fund at Colgate University, 13 Oak Drive, Hamilton, NY 13346. A private burial service will take place in Deep River, Connecticut.