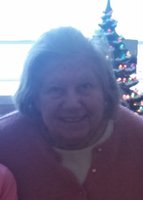 Annette O. Ferreby
Annette O. Ferreby passed away on June 25, 2020. She was 86 years old.
Annette was born in Westfield, NJ, to parents Herbert and Grace Osterman. She moved to Far Hills, NJ, in 1962 and lived there until her move to Basking Ridge in 2010. She was an active parishioner of the Pottersville Reform Church.
Annette worked as a Realtor for Turpin Real Estate in Far Hills, where she earned her place in the Million Dollar Sale Club on numerous occasions. She enjoyed going to car shows with her husband, Richard, as well as knitting, sewing and cooking. Every meal she prepared was delicious, she perfected every dish she made.
Annette is predeceased by her husband of 52 years, Richard Ferreby, and is survived by sons Marty Ferreby of North Carolina and Tom (Brenda) Ferreby of Pennsylvania, 5 grandchildren, and 9 great grandchildren.
Annette will be laid to rest with her husband at Pottersville Reformed Church Cemetery at 12 noon on Sunday, June 28, 2020. In lieu of flowers, donations in Annette's memory may be made to the Pottersville Reformed Church, 2090 Black River Rd, Pottersville, NJ 07979.