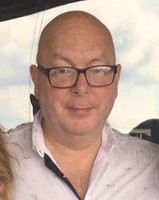 Vincent John DeFilippo
Vincent John DeFilippo, 60, passed away at Bayonne Medical Center in Bayonne, New Jersey on May 25, 2020.
There will be a private viewing for Vincent for close relatives to attend at the Bailey Funeral Home in Mendham on Sunday, May 31st. A burial of his remains will take place at Prospect Hill Cemetery in Caldwell.
Born in Newark, NJ to Daniel and Joan (nee Hary) DeFilippo, Vincent's early childhood was spent in the North Ward neighborhood of Newark. With many extended family members living close by, it held a memory that he recalled very fondly until his death. Later, his family relocated to Livingston, where he graduated from Livingston High School in 1978. He then attended Rutgers Newark where he studied Art. In 1984, he met Terri DuBois and they had two children, Lucia in 1987 and Daniel in 1991. After residing in Caldwell, Vincent lived throughout Morris County and Jersey City, finally settling in Bayonne last year. Vincent worked in retail at Macy's Herald Square in the 1990's, Jensen Lewis Furniture in New York City, and most recently at Macy's at the Newport Mall in Jersey City. He also worked for a time in the restaurant industry; most notably at Milan in Pine Brook, Bizzaro and Chaps restaurants in Denville, and Village and Brasserie restaurants in New York City.
Vincent was a world traveler, and his travels, especially with his brother Daniel, gave him some of his happiest experiences. He took great pleasure in cooking delicious food, which he was quite skilled at. He was adventurous, outgoing, and constantly was interested in learning more to enrich his very bright mind. A fierce lover of the Arts, especially modern art and music, he visited countless museums and attended numerous concerts, most notably Elton John and Queen. Vincent also loved New York City as his second home, taking advantage of the 1970's and 80's club scenes. He always kept his Italian, Czech, and Hungarian heritage close to his heart and strongly believed that family was most important. Above all, Vincent loved his children Daniel and Lucia, and was their "biggest fan" and supporter in whatever they did.
Vincent is survived by his children, daughter Lucia Breslauer and her husband Glenn Breslauer of Madison, and son Daniel DeFilippo. He was a wonderful "G-Dad" to his granddaughter, Siena Breslauer, and enjoyed spending time with her towards the end of his life. He is also survived by his former wife Terri DuBois of Missouri, his father Daniel DeFilippo and stepmother Rosina of Ocean, his brother, Robert DeFilippo (Kimberly) of Livingston, his brother John DeFilippo (Wendy) of Missouri, and stepsister Jennifer Cavise (Adam) of Rumson. He also is survived by his nephew's Christopher, Alexander, Andrew and Jaden, nieces Gabriella and Kaylee, many beloved cousins and extended family members, and his very dear friend Alan Sommerman of Jersey City. Vincent is predeceased by his best friend and brother Daniel R. DeFilippo, and his mother and biggest supporter, Joan DeFilippo.
In lieu of flowers, donations in Vincent's memory may be made to the National Alliance on Mental Health, 4301 Wilson Blvd., Suite 300, Arlington VA 22203 (https://donate.nami.org/give/197406/#!/donation/checkout)