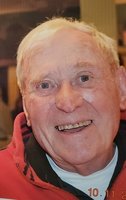 John Whittemore
John Rae Whittemore passed away at home on May 16, 2020. He was 90 years old.
Born in Elizabeth, NJ, to parents Clark and Regina (nee Baremore) Whittemore, John graduated from the Pingry School in 1947 and earned a Bachelor's Degree in Geology from the University of Virginia in 1951. John attended Officer Training School in Newport, R.I. and served in the United States Navy in the Korean War as a Lieutenant JG.
After the war, John became employed by the Inter-American Geodetic Survey. He was flown to Central and South America where he was tasked with surveying jungle and mountain terrains as a cartographer. He amused his family and friends with tales of travels in these uncharted regions.
John returned to the United States and attended New York University where he earned a Masters Degree in Education. After receiving his degree John returned to the Pingry School as a biology teacher. He taught at Pingry for 37 years and also passionately served as Assistant Wrestling Coach. Throughout these years he positively impacted students' lives inside and outside of the classroom. John was passionate about his family, taking family vacations to Chatham, Cape Cod, playing and watching golf, Mets baseball, Pingry wrestling and mentoring students at Pingry School.
John is survived by his wife of 60 years, Beth Hyde Whittemore, son Thomas M. Whittemore of Long Valley, NJ, daughter Jennifer Hyde Whittemore Sloane, son in law, Leslie Sloane of Randolph, NJ, and three grandchildren, Amy L. Whittemore, Kirsten R. Whittemore and Susan J. Whittemore..
John will be laid to rest in Hilltop Cemetery in Mendham, NJ. A Memorial Service will be held at a later date. In lieu of flowers, donations in John's memory may be made to Foundation For Morristown Medical Center, 475 South Street Morristown, NJ 07960 www.f4mmc.org or Eleventh Hour Rescue, PO Box 218, Rockaway, NJ 07866 www.ehrdogs.org