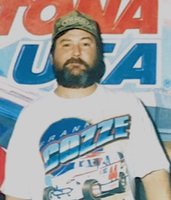 George T. Briskie, Jr.
George T. Briskie, Jr. passed away peacefully, at home, on May 4, 2020. He was 55 years old. George is survived by his loving wife of 28 years, Eugenia Briskie, and his children Trent Briskie and Madalynn Briskie, his father George Briskie, Sr, and sisters, Michele Hoernlen and Ginny Trebilcock.
For 18 years, George worked for the International Union of Operating Engineers, Local 825 in Springfield, New Jersey. Through the years, George made many personal friendships within both the Operating Engineers and Dockbuilders Local 1556. George had great respect for what the Unions represented and the people they employed.
George was an avid hunter and fisherman and loved to snowmobile and four-wheel. When he was not outdoors, he enjoyed watching NASCAR and attending dirt car races. George loved his yearly vacations in Wildwood, New Jersey, and his trips to Hot Dog Johnny's with his wife and children. He loved to keep busy and was always on the hunt for a new adventure, projects, or objects he could take apart and put back together. There was nothing more that he cherished than spending time with his family and friends.
George will be laid to rest on Saturday, May 9, at the Fairmount Cemetery in Califon, New Jersey. A memorial service will be announced after the Covid-19 restrictions have been lifted. In lieu of flowers, donations in George's memory may be made to the American Cancer Society, P.O. Box 22478, Oklahoma City, OK 73123.