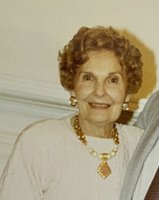 Rosalie Molinari
Rosalie Molinari passed away peacefully at home in Glasdstone on April 26, 2020.
She was 95.
Born in Brooklyn to Joseph and Mary Presuto she lived in North Plainfield for many years before moving to Gladstone in 2010.
She was a longtime member of St. Joseph Church in North Plainfield.
Rosalie was a devoted wife and mother who always put her family first.
She was an excellent cook who enjoyed entertaining family and friends. She was also an avid gardener.
She was predeceased by her husband George of 59 years in 2010, and two sisters Ann Herbst and Marie Pelligrino.
She is survived by one daughter Teresa Geisler and her husband Ed of Gladstone, and three sisters Josephine Micioni of N. Plainfield, Florie Catapano of Dunellen and Yolanda Hummel of Mountainside.
A private entombment will be held at Holy Cross Cemetery, Basking Ridge. A memorial mass will be held at a later date.