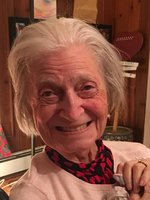 Barbara Betz
Barbara "Bonnie" Mae Betz (nee Cashman), 101 years 6 months, died peacefully at home Tuesday morning from natural causes with family members at her side. She was a beloved wife, mother, grandmother, and great-grandmother.
Born in Berlin CT, she grew up in Berlin and Wilton CT, and Stirling and Bernardsville NJ. She attended Morristown HS and graduated from Bernards HS. She graduated from the NJ State Teachers College in Newark. While at college she worked at Hahne's in Newark.
Her first year of teaching was at the Lamington one-room schoolhouse as the solo teacher for kindergarten through 8th grade. She taught there in 1941 and 1942, the last year of the one-room schoolhouses in Bedminster Township. In the fall of 1942, she taught kindergarten through 4th grade at the Pottersville schoolhouse, a two-room school. She also taught elementary school at the Oak Street School in Basking Ridge and first grade at Peapack-Gladstone Elementary School until the fall of 1952.
She met the love of her life, Albert Joseph Betz, in grammar school and the two married on March 29, 1947, at the Basking Ridge Presbyterian Church. She and Al settled in the Mendhams in 1947 where they raised their sons.
She has been a member of the First Presbyterian Church of Mendham since March 23, 1953.
Bonnie was an active member of her community. She joined the Junior Women's Club in Bernardsville. She then joined the Woman's Club of Mendham and was a member for over 70 years, serving as Secretary and on the Executive Board. She was also a member of the Mendham Borough PTA while her boys were young and the Morris County Women's Republican Club, serving as Secretary for both organizations.
Family was her passion. She especially enjoyed hosting holiday and family events. She loved her grandchildren and great grandchildren. She would crawl on the floor playing with them and enjoyed reading books to them. She and Al attended many school and sporting events as their children and grandchildren grew. She enjoyed many family vacations in the Poconos, Wildwood and Ocean City MD. She and Al traveled cross country and enjoyed river cruises. She was very caring and supportive to many people in their time of need.
She is survived by three sons and their spouses, Jeffrey A. and Sharon of Brookside, Dr. William and Pandi of Myrtle Beach SC, Kenneth and Josephine Anne "JoAnne" of Mendham and her grandchildren Rev. Cynthia (and Russell Bogoly), Kenneth Jr (and fiancée Christine), David (and Meghan), Alex (and Carina), Emily, Will, Patty, and Sarah, and great grandchildren Natalie Bogoly, Teddy and Lilah Betz. She is also survived by two nephews, three nieces and many extended family members.
She was pre-deceased by her husband Albert (2015), parents Thomas F. Cashman and Bertha (Goodrich) Cashman, her sister Pearl and brother Benjamin.
The family held visitation hours at Bailey Funeral Home, 8 Hilltop Road, in Mendham and a Celebration of her life at the First Presbyterian Church, Mendham. The family will host a time of celebration and remembrance at a later time for family and friends.
Donations in her memory may be sent to First Presbyterian Church, 14 Hilltop Road, Mendham NJ 07945.