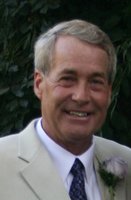 Sean McCarten
Sean V. McCarten of Discovery Bay, California passed away at his home on February 28, 2020.
He was 65 years old.
Sean was born on July 6, 1954, to John and Mary (Reitemeyer) McCarten. He graduated from Far Brook School, Short Hills, New Jersey. He attended Mendham High School, graduating from the Sterling Prep School in Craftsbury Common, Vermont.
Sean had a successful 37 year career at Pacific Gas and Electric where he enjoyed working with many employees and friends.
Surviving Sean in addition to his wife Shirley Mabry, are his sisters Ellen McCarten Watman and Johanna McCarten (Michael); his brothers David (Joan), Kevin (Beartrice), James (Tricia) and Barry (Angela); his nieces Tanya, Shannon, Alexandra, Jenny, Lauren, Rachael, Jennifer, Heather and his nephews Daniel, Ian, Jeremy and Matthew. Sean was predeceased by his loving parents and beloved brother Patric.
Sean loved being outdoors, particularly golfing, shooting, fishing and traveling with his siblings and their children. Amongst his many talents, he restored antiques from furniture to sailboats to watches. He had a unique connection with animals, in particular his cherished dog "Pumpkin".
Friends are invited to join a celebration of his life on May 16, 2020 at the Bailey Funeral Home, 8 Hilltop Road, Mendham, New Jersey. Visitation will be at 11am with a Memorial Service at noon. Interment will immediately follow at Hilltop Cemetery, Mendham, New Jersey