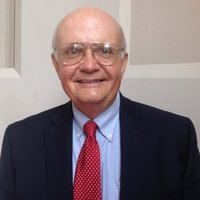 William Steelman
The Reverend C. William (Bill) Steelman of Nantucket, Massachusetts, formerly of Mendham, New Jersey, died of Pancreatic cancer Tuesday February 4. He was 79.

Bill was born and raised in Basking Ridge, New Jersey, was class of '63 from Swarthmore College and had a thirty-two year career in New York City banking. He retired as Executive Vice President of United States Trust Company of New York in 1995. Soon after, Bill and his wife Linda retired to Nantucket, Massachusetts.

In 1998 Bill decided to go to divinity school at Andover Newton Theological School, now Andover Newton Seminary at Yale Divinity School, and graduated with honors with a Masters of Divinity in 2003. He was ordained as a Congregational minister and became an Associate Minister at The First Congregational Church in Nantucket where he served for fifteen years. His further studies at Hartford Seminary for a Doctorate in Ministry were discontinued when he was diagnosed with Parkinson's Disease in 2015. Bill retired from active ministry in 2018. One of his proudest moments was in 2010 when he presided over the first same gender marriage performed in a Christian church in Nantucket.

Bill always had an interest in politics and town government. In 1991 he was elected to a term as Mayor in Mendham Borough, New Jersey and in the late nineties served on the Nantucket Finance Committee.

Bill was predeceased by a son David in 1983 and a brother Roger in 1981. In addition to his wife Linda, survivors include his son Robert and wife Eun-shil and their children Vienna and Trevor, son Peter and wife Mary Elizabeth and children Tommy, Katie, Ellie and Gracie and step brother Dick Pilch.

There was no pretense with Bill. He was an honorable, straight talking man who asked challenging questions and spoke openly about being a friend of Bill W. He will be greatly missed.

A memorial service will be held at Hilltop Presbyterian Church in Mendham, NJ on February 22 at 1p.m. A Celebration of Life service will be held in August on Nantucket.

In lieu of flowers a gift in Bill's name may be made to The First Congregational Church in Nantucket or an organization of your choosing.