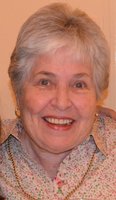 Elaine Morsch
On Sunday, February 9, 2020, Elaine Morsch, of Chester, loving wife and mother of four children, peacefully passed away at age 87.
Elaine is survived by her sister, Delores Torre, her two sons, Eugene and his wife Lori Morsch and James F. Morsch, three grandchildren, Kate Daley, Kimberly Morsch, and James D. Morsch, and two great-grandchildren, Daisy and Vivian. Elaine was preceded in death by her beloved husband Eugene, her twins Kathleen and John, and her sister Elizabeth Mataka.
Elaine, the youngest of three sisters, was born at home on August 24th, 1932 in Maplewood, NJ to Clarence and Elizabeth Kradell. Elaine was an avid accordion player beginning at the age of nine and played at the professional level her entire life. She played with greats such as Count Basie and appeared on the Major Bowes Amateur Hour radio program. She passed down her musical passion to her children and grandchildren. She met the love of her life, Eugene A. Morsch, on Valentine's Day in 1954 and married January 12th, 1957.
She worked in various professions, but her greatest passion was in her antique business. Elaine was truly at home in the ownership and operation of her antique store in downtown Chester, NJ. Elaine was the definition of a people person. During her ownership of the antique shop, she loved interacting with her loyal customers and engaging with the local Chester Historical Business Association. Many homes in the greater Morris County area are filled with wonderful items and antiques from her store.
After a life filled with both joys and hardships, Elaine is now resting peacefully with the love of her life.
Visitation will be held on Wednesday Feb. 12, 2020 from 2-4 & 7-9 pm at the Bailey Funeral Home, 8 Hilltop Rd., Mendham.
Funeral Mass Thursday 10:30am at St. Lawrence Church, Chester. Interment Pleasant Hill Cemetery, Chester. For those desiring, donations to the Foundation for Morristown Medical Center, 475 South St., Morristown, NJ 07960, in her memory, would be appreciated.