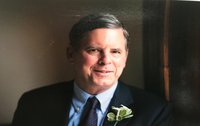 Timothy Bell Moyer
Timothy Bell Moyer of Califon, New Jersey passed away on Sunday, February 2, 2020.
Born May 25, 1950 in Tampa, Florida, Tim was son of the late David Baxter and Virginia Finlay Moyer. The Moyer family moved to Bernardsville, New Jersey in the early 1950s. Tim attended Far Hills Country Day School and then went on to Deerfield Academy, Stanford University, and Harvard Business School.
Tim had an extensive banking career with Salomon Brothers, Dean Witter and Societe Generale in New York. In 2002, following the attacks of 9/11, he joined the newly created Federal Bureau of Investigation financial counter-terrorism unit where he showed his true passion and patriotism. He worked at the FBI until his passing.
Tim spoke fluent French and loved traveling the world. He was an avid reader with a keen sense of history and member of the First Troop Philadelphia City Calvary. He enjoyed riding his tractor and scouting his mountain in New Jersey. He greatly appreciated nature and the peace and quiet of the woods surrounding his home. He found joy in sunrises and sunsets. Tim was a proud family man and grandfather.
Tim is survived by his wife, Wilhelmina of Califon, NJ; his children, Lindsay Stempniak of Boston, MA and Timothy Moyer, Jr. of Chestnut Hill, PA, brothers David Moyer of Moraga, CA and Peter Moyer of Jackson Hole, WY, sister Katherine Kissel of Jacksonville, FL, and his grandchildren, Reese, Lucy, Brooks, and Elizabeth.
A memorial service will be held at St. Luke's Episcopal Church in Gladstone, NJ on February 22nd, 2020 at 11:00 am with a reception to follow.
In lieu of flowers, donations in Tim's name can be made to St. Luke's Church, PO Box 605, Gladstone, NJ 07934 or The Tewksbury Foot Bassets, PO Box 312, Far Hills, NJ 07931.