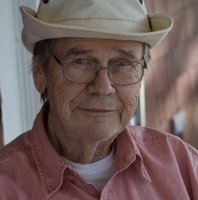 Jan Arthur Sarsten
Jan Arthur Sarsten of Millington, NJ and New Harbor, ME passed away on November 17, 2019. Jan, who was a 1949 graduate of Brooklyn Technical High School, and a 1953 graduate of Stevens Institute of Technology, was predeceased by his wife of 64 years, Ann Elisabeth Sarsten (nee Rodberg), and one great grand-daughter (Sylvi Ann Krabill). He is survived by his five children (Peder Jan Sarsten, Paul Emil Sarsten, Philip Brynthe Sarsten, Lisa Ann Kielblock, and Taya Sarsten Levin), 12 grandchildren, 14 great grandchildren, and a brother (Gunnar Edward Sarsten).
Jan had a varied working career starting when still a child as a musician playing the piano accordion in concerts, hotels, and clubs in the NY metropolitan area. When 12 years old, Jan won the International Accordion Contest in Manhattan Center. He also performed on the then-famous Major Bowes WOR radio program Amateur Hour. During World War II, he performed regularly for wounded and convalescing servicemen in the recovery wards of Halloran General Hospital on Staten Island, NY, that was sponsored by the USO, and performed for many war relief organizations. Jan was a member of the American Federation of Musicians.
Following High School graduation, Jan worked for about a year as a Hod Carrier on the AL Smith Housing Project in Manhattan, NY, and was a member of the International Association of Hod Carriers.
At Stevens Institute of Technology, Jan earned a Mechanical Engineering Degree and a commission as a Second Lieutenant in the United States Air Force subsequently serving in Fontainebleau, France as a Communications Officer for the Fifth Radio Relay Squadron of the Allied Air Forces Central Europe, a NATO command. He was honorably discharged in 1956 as a First Lieutenant, United States Air Force Reserve.
Following his military service, Jan was employed by Esso Research and Engineering Company of Bayway and Florham Park, NJ for 38 years retiring in 1993. During his employment with Esso (now ExxonMobil) Jan worked on many foreign assignments planning, designing, commissioning, and troubleshooting Refineries, Gas and Chemical Plants in most countries of Europe, Libya, Algeria, Saudi Arabia, Iran, Japan, China, Australia, Indonesia, Singapore, Malaysia, Thailand, Venezuela, Colombia, Aruba, many states of the USA, and many provinces of Canada. He was a Startup Advisor for major projects in Colombia, Wales, The Netherlands, and Libya, and was Startup Leader for two major projects in Sicily.
When Jan retired in 1993 as an Engineering Advisor he held five U.S. Patents in Gas Processing. He had a worldwide reputation as an expert in Liquefied Natural Gas Operations, Refinery Commissioning, and Refinery Oil Loss and Hazardous Waste Reduction. In 1960, he identified the then-unknown and dangerous LNG storage condition now known as LNG Stratification and Rollover giving scientific papers on the subject to the National Academy of Sciences, and to the American Gas Association. He was a significant member of a Corporate team that identified and reduced world wide corporate custody transfer measurement losses, and was the Team Leader of another Corporate team that demonstrated that hazardous waste production at large refineries could be reduced by up to 80% by the implementation of identified projects having a return on capital employed that was better than the core business.
Jan concluded his engineering career as a Consultant to several major U.S. companies, and to the United States Environmental Protection Agency. In that work as a Consultant, he was also contracted by the United States Department of Justice as an expert witness in three landmark Clean Air Act litigation cases that were won by them.
Jan was proud of his family, his country, and his employer Esso/ExxonMobil. He considered that he was privileged to have met and worked with the many hundreds of associates, and clients around the world that enriched his life.
Visitation will be Saturday November 30th from 11:00am to 12:30pm with a funeral service at 12:30 at the Bailey Funeral Home, 8 Hilltop Road, Mendham, NJ.
In lieu of flowers, donations can be made in his memory to New York City Relief at www.newyorkcityrelief.org.