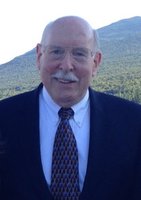 Sanders William Davis
Sanders W. Davis Obituary
On Monday, November 18th, 2019, Sanders William Davis, MD, loving husband and father of two daughters, passed away at 81.
Sanders, known as Sandy, was born on June 27, 1938 in California, to Henry August Davis and Cordelia Taft. At 17, he joined the Marines and served honorably in the Corps for one year and in the Reserves for the following seven. He received his Bachelor of Science degree from Southern Methodist University in 1961 and his Medical Doctorate in 1965 from the Southwestern Medical School, University of Texas. A specialist in physical medicine and rehabilitation, he practiced medicine with gentleness and empathy, primarily treating patients with brain and spinal cord injuries, trauma, paralysis and pain conditions. His 52-year career saw him serve as an attending physician at the Rusk Institute of Rehabilitation Medicine at New York University Medical Center in New York City, the Kessler Institute for Rehabilitation in West Orange, NJ, the Columbia Presbyterian Hospital in New York City, and the Atlantic Rehabilitation Institute of Morristown Memorial Hospital in Morristown, NJ. His academic appointments included Professorships of Rehabilitation Medicine at Columbia University, New York University and the University of Medicine and Dentistry of New Jersey. Further, he volunteered as the Chairman of the board of several nonprofits including the Cheshire Home and Heath Village.
He was married to Kathryn Dolores Fischer, known as Kathy, for 42 years. Together they raised two daughters, Kathryn and Mary Eleanor (Mariel). Adored for his kind nature, insightful wisdom and corny jokes, Sanders was an enthusiastic fisherman and gardener. As a history lover, he enjoyed listening to lectures on tape and collecting historical documents. With his family he traveled extensively, and particularly cherished memories of trips to Fiji, Australia, New Zealand, China, and Egypt. He valued the opportunities for service and reflection that his memberships in the Knights of Columbus and the Old Guard provided.
Sanders was preceded in death by his father, Henry, and mother, Cordelia. He is survived by his wife Kathy, daughters Kathryn and Mariel, granddaughter Cordelia, brothers Daniel, Timothy and Mark, sons-in-law Ryan Kells and Fawzy Abu Seif, and by many cousins, nieces, and nephews.
A visitation will be held on Friday, December 6, from 3-6PM at the Bailey Funeral Home in Mendham. Funeral Mass will be Saturday at 11 am at St. Joseph Church in Mendham. In lieu of flowers, those who wish to honor his memory are invited to donate to Cheshire Home for young adults with disabilities in Florham Park, NJ, where Sanders served as a board member for two decades. Donations in memory of Sanders can be made online at www.cheshirehome.org, by texting Cheshire to 44321, or by check addressed to Cheshire Home, 9 Ridgedale Avenue, Florham Park, NJ 07932.
A write up from the Cheshire Home on their website;
Dr. Davis, as he was known to all at Cheshire Home, served with great distinction on our Board of Trustees for two decades, including two terms as Board President. During his time as President, Cheshire constructed its physical and occupational therapy center, expanded its vocational training services, and built its second community home, Cheshire III in Florham Park.
Cheshire Home is New Jersey's leading provider of unique residential and rehabilitative services to young adults paralyzed by spinal cord injuries or neurological impairments, and the only stand-alone facility of its kind in our state. Licensed as a special care nursing facility with a 35-bed capacity, Cheshire espouses an "Able Not Idle" philosophy, and empowers each individual we serve to attain their highest level of self-sufficiency.
As the former Director of Inpatient Rehabilitation at the Rehabilitation Institute of Morristown Memorial Hospital, and Director of the Spinal Cord Injury Service at Kessler Rehabilitation, Dr. Davis' professional understanding of our residents' challenges was invaluable. Given his expertise, and his caring approach to each person we served, he provided leadership that was vital to Cheshire Home's success through many years.
Dr. Davis' responsibilities as a trustee extended to his role as a member of the Admissions committee. Along with his fellow members, he was responsible for each resident's admission. Together with the full Board, he supported staff as they provided nursing, personal care, therapy, training and counseling, and residents as they worked with determination toward their goal of independence. It gave him joy to celebrate these efforts and achievements.
While we are a nursing facility at Cheshire Home, we are also a family in our own way, with a deep sense of togetherness. Dr. Davis reflected this sentiment in his long-standing commitment to those in need. He often reminded us not to shy away from the word "exceptional" when it was called for.
We are honored to say that Dr. Davis was an exceptional man, and we will miss him greatly.