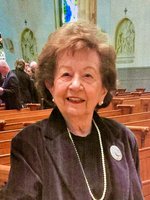 Marie A Rotondo
Marie A. Rotondo of Mendham, NJ passed away peacefully in her sleep on September 12, 2019. Marie was born and raised in Newark, NJ, and lived in Whippany and Parsippany before moving to Mendham in 2005. She was a graduate of St. Vincent Academy, Newark, NJ, class of 1951, and a graduate of Upsala College, East Orange, NJ. She was an Executive Assistant for many years at several companies, including International General Electric in New York City, and The Newark Evening News in Newark, NJ. She enjoyed her family and friends and was an active member and volunteer of St. Joseph's Church, Mendham, NJ. She also enjoyed the beach and travelling, here in the US as well as Europe.
Marie is survived by her niece, Maria Jane Rotondo-Santos, Nutley, NJ; great nephews and niece, Eugene, Carla and Lee; and great, great nieces and nephew, Scarlett, Hazel, and Joshua; her dear friend Nancy, and many other close, long-time friends. She was preceded in death by her parents Charles J. Rotondo and Josephine (nee Cecera) Rotondo; her brothers, Philip C. Rotondo, and John P. Rotondo; and her nephew, Charles J. Rotondo II.
Visitation will be held Sunday, September 15, from 6-8 PM at the Bailey Funeral Home, 8 Hilltop Rd, Mendham. A Funeral Mass will take place Monday, September 16, at 12 noon, at St. Joseph Catholic Church, W. Main St, Mendham. Interment Immaculate Conception Cemetery, Montclair. Memorial donations may be made in Marie's name to St. Joseph Catholic Church, 6 New Street, Mendham, NJ 07945; or St. Vincent Academy, 228 W Market St, Newark, NJ 07103.