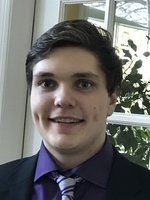 Peter Vincent Kutyla
Peter V. Kutyla passed away on August 25, 2019. He was 21 years old.
Born in Paterson, NJ, to parents Krzysztof and Maria Wiekowski-Kutyla, he lived in Wayne NJ before moving to Gladstone NJ in 2016.
Peter was a 2016 graduate of Wayne Hills High School, where he was the Captain of the fencing team, VP in the Marching Band, and participated in the State Championships for both activities. He went on to attend Penn State University and was a member of the intercollegiate Overwatch team and a brother of the Alpha Kappa Lambda Fraternity.
Peter smiled easily and was a kind soul. He was a member of Troop 192 of the Boy Scouts of Wayne NJ. He loved to cook and shared that hobby with as many as he could. He loved to tinker and improve the objects around him, starting with a powered skateboard to building a computer that confused most normal people. Peter loved fishing and spending time doing outdoor activities. He loved playing sports and always gave it his all, even when it was just a pick up game. From an early age Peter was deeply involved with music, initially starting with the guitar and then progressing to the saxophone. He touched many lives, more than he knew.
Peter is an organ donor and even though his heart does not beat for us, it will continue to beat and change the lives of so many more.
Peter is survived by his parents, Krzysztof and Maria Kutyla, his older brother Jan Kutyla, and many extended family members in Germany and Poland. He will be missed by all.
Visitation will be held on Friday, August 30, from 6-9 PM at the Bailey Funeral Home, 176 Main St, Peapack NJ 07977. A Funeral Service will take place on Saturday, August 31, at 10:30 AM at St. John on the Mountain, 379 Mount Harmony Rd., Bernardsville. For those desiring, donations to the Anxiety and Depression Association of America, adaa.org, in his memory, would be appreciated.