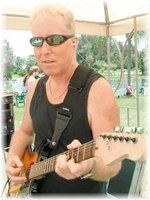 Kenneth William Smith
Kenneth "Kenny" Smith passed away peacefully on Monday, July 22, 2019 in Mendham, NJ at the age of 65. He was born on April 3, 1954 in Newark, NJ. The son of Warren and Julia Smith, Kenny was raised in Fanwood, NJ. He graduated from Scotch Plains-Fanwood High School in 1972 and went on to attended Berklee College of Music in Boston where he excelled in his studies. He discovered his musical gift at the early age of 7 and from that point on, he was never without his guitar. Early on in his career Kenny recorded with James Cotton and Harry Chapin at the well known Paul Leka's Connecticut Recording Studio in Bridgeport, CT. He also performed and recorded with a wide variety of musicians, including Ace Frehley and Bobby Vinton, to name a few. He loved traveling the country, whether it was with his band-mates in Potpourri or playing guitar in the orchestra pit for touring productions of "Hair", " South Pacific" and "Joseph and the Amazing Technicolor Dream Coat". Kenny was also a well respected guitar instructor who taught many students over the years in Connecticut, Florida and New Jersey. He spent his entire career playing guitar, singing, performing and composing music. One of his proudest accomplishments was composing the title track on Grammy nominated guitarist Cornell Dupree's album, "Can't Get Through". Kenny was known for his incredible sense of humor and was always quick to make you laugh with a good joke. He will be greatly missed by all who knew him.
He is survived by his children, Jeffrey Smith of Milford, CT, Colin Smith of Port Orange, FL, Michael Smith of Milford, CT, Nikki Smith of Flanders, NJ and Adam Smith of Flanders, NJ. He is also survived by his siblings, Robert Smith of Gainesville, FL, Susan and her husband Brian Labowsky of Ansonia, CT and Thomas Smith of Cromwell, CT. He leaves behind his nieces, Jennifer Nemchek of Fort Lauderdale, FL, Camille Pauly and her husband Alejandro of Gainesville, FL and Carli Brinkman and her husband Zach of West Palm Beach, FL. He is predeceased by his parents, Warren and Julia Smith, formerly of Fanwood, NJ and Bernardsville, NJ.
Family and friends are invited to remember Kenny in a Celebration of Life on Sunday, August 18, 2019 at the American Legion at 1003 North Avenue West, Westfield, NJ 07090 from 5:00-9:00 PM.