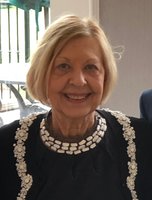 Bernadine Fedor
Bernadine Fedor, 85, formerly of West Pittson, Pennsylvania, passed away peacefully on May 8, 2019 at Morristown Medical Center, surrounded by her loving family. Bernie came to seek treatment and comfort with her daughter and son-in-law, grandson, granddaughter and great granddaughter after losing her beloved Husband several months ago. She fought a valiant battle with cancer and now is at peace.
Born in Pittston, Pennsylvania on July 7,1933 she was the daughter of the late John and Anna Dructor Wargo. Bernadine was a graduate of St John the Evangelist High School, Pittston, PA, and a graduate of Pittston Nursing School. She dedicated her life to helping others in her chosen field of nursing and was a friend and confident to many.
Bernadine was a loving wife, mother, grandmother, great grandmother, sister, and aunt, godmother and will be sorely missed.
In addition to her parents, Bernadine was predeceased in death by her husband Michael (Jerry), son Michael John Fedor and grandson, Zachary Joseph Lopian.
Surviving are her daughter, Dianne Fedor Lopian and husband Kenneth, Mendham, NJ, grandson Kenneth Michael Lopian and his wife MaryAlyse (Aly) and great-granddaughter, Carter Grace Lopian, Chatham, NJ, daughter in law, Mary Codoro Fedor, Pensicola, Florida. Sisters, Marianne Best, West Pittson, Pa and Jacqueline Pevney, Charlotte, NC. Sister-in-laws, Rosella Fedor Purcell, West Pittston, PA, and Mary Evelyn Capuano and her husband the Honorable Earl Capuano, Maryland.
Mass of Christian Burial will be at 12 noon at the Chapel at St. Joseph Church, Mendham.
Interment will take place on Monday May 13, 2019 at the St. John the Baptist Cemetery, Exeter, PA at 1pm.