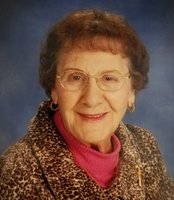 Viola P. Lioudis
Viola Lioudis passed away on March 10, 2019. She was 90 years old.
Born and raised in Summit NJ, to parents Michael and Lena (nee Colella) Pecca, Viola graduated Summit High School before marrying the love of her life in 1957, James Lioudis. She was a homemaker, a mother, and an amazing cook. She and her husband worked together to manage their family business. After moving to Mendham with her husband in 1995, Viola became a very involved member of the Mendham Seniors Club, serving as the recording secretary as well as program director. She was a faithful parishioner of St. Andrew Greek Orthodox Church in
Randolph.
Viola is predeceased by her siblings, Marion, Rose, Josephine, Marie, and Joseph; she is survived by her loving husband of 63 years, James; her children Michael, Sophia, and George; daughters-in-laws Susan and Nancy and son-in-law Jimmy; grandchildren Michael (Carrie), Kristopher (Valerie), Emily, Vincent, Katherine, Stellios, and Debbie (Kosta); as well as ten great grandchildren.
Visitation will be held on Friday, March 15, from 5-8 PM (with a prayer at 5 PM) at the Bailey Funeral Home, 8 Hilltop Rd, Mendham NJ 07945. A Funeral Mass will take place on Saturday, March 16, at 11:15 am at St. Andrew Greek Orthodox Church, 1447 Sussex Turnpike, Randolph, NJ 07869, immediately followed by a burial at Hilltop Cemetery in Mendham.
In lieu of flowers, donations in Viola's name can be made to The American Cancer Society, PO Box 22478, Oklahoma City, OK 73123, www.cancer.org.