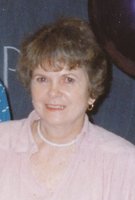 Wilma J Byrne
Wilma Joyce Byrne (née Campbell), passed away peacefully, from the effects of Alzheimer's disease on March 2, 2019 in Bridgewater, NJ. She was 84 years old.
Born in Taunton, Massachusetts on April 7, 1934, she was a graduate of the class of '51 from St. Mary's High School and attended Bryant College for a year. Before her marriage she worked as a legal secretary in Providence's Industrial Trust Tower.
Wilma, a homemaker, was a longtime bookkeeper to her husband's business, and later an employee of Chemical Bank. She was devoted theater, music, and opera goer. She loved museums, film, the outdoors (in moderation) and the company of friends.
Formerly a resident of Mountain Lakes and Denville, NJ, she was a long-time member of St. Catherine of Siena parish and an ardent member of St. Elizabeth – St. Brigid.
Wilma is predeceased by her husband of 52 years, the late Terence J. Byrne. She is survived by her sons Scott, Michael, and Sean, her sister-in-law Filomena R. Campbell, beloved nieces, nephews, cousins and friends.
A mass will be held at 11 AM, Saturday, March 9, 2019 at St. Brigid's Church, Peapack, NJ. Burial and service to be held later in Taunton, Massachusetts.