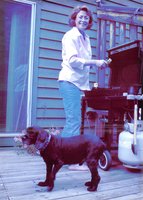 Donna Smalley
Donna Smalley passed away on February 7, 2019. She was 60 years old.
Born in Somerville and raised in Chester, NJ, Donna attended West Morris Central High School and made her way in multiple careers. She modeled through the Meredith Agency in New York City, won the hearts of many children in her sales position at Dakin Toy Company, and pampered plenty of pets through her own business, Woof & Purr, out of Princeton, a town she called home for over 30 years.
Donna loved to cook for family and friends, read, watch HallMark Channel movies, spend time with her dog, and share a glass of wine with friends.
Donna is predeceased by her mother, Jane (nee Grady), and is survived by her father, Leonard, brother Ron Smalley, sisters Dale Talbot and Annette Smalley-McGill, brother-in-law Robert Talbot, niece Julie Talbot, nephews Kevin and Grant Talbot, and many friends and associates who will miss her dearly.
A memorial service will be held on Saturday, February 16th, 11am at the First Congregational Church in Chester, 30 Hillside Rd, Chester, NJ 07930. An interment will take place at Pleasant Hill Cemetery in Chester, NJ, at a later date.