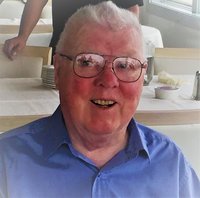 Thomas Edmund Shaw
Thomas Edmund Shaw passed away on January 21, 2019. He was 81 years old.
Born and raised in Newark, N.J., Thomas attended St. Rose of Lima Parochial School and Our Lady of the Valley High School, before marrying and moving to Maplewood and then Edison to raise his family. He moved to Somerset in 1986 and has been a parishioner of St. Matthias Catholic Church since 1987. He is the beloved father of Thomas, Theresa, Bill, Brendan, and Brian, father-in-law to Nina and Marek, grandfather to T.J., Ian, John, Liam, Lucas, and Timmy.
Thomas was a crossword puzzle expert, an avid reader, a history buff, a passionate do-it-yourself (DIY)er, and he loved working on his cars, many affectionately known as "clunkers." He loved camping and sought or carved out adventure everywhere he went. He was proud of his service in the National Guard as well as his 32-year tenure with the Federal Government. He enjoyed his retirement by traveling with his children and attending baseball games with his grandsons, to whom he was devoted.
A visitation will be held on Thursday, January 24, from 4-7 PM at the Bailey Funeral Home, 8 Hilltop Rd, Mendham, NJ www.baileyfuneral.com A Funeral Mass will take place on Friday, January 25, at 11 AM at St. Joseph Church, 6 New St, Mendham, NJ. In lieu of flowers, donations in Thomas's name may be made to St Joseph School, We are St Joes Fund, 6 New St, Mendham, NJ 07945.