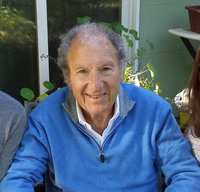 Edward V. Saradarian, MD
Dr. Edward V. Saradarian, MD, passed away on Jan. 8, 2019 at the Morristown Medical Center. He was 88 years old.
He was born on May 10, 1930 in Jersey City, NJ. He lived in Mendham, NJ from 1961 – 1998 and in Bernardsville, NJ for the last 21 years.
Dr. Saradarian was a graduate of Fordham University and Hahnemann University Medical School.
He served in the Army from 1959 – 1961.
Dr. Saradarian was in private practice as an Ophthalmologist in Morristown for many years and was on staff at the Morristown Medical Center for over 50 years.
He loved golf and was a longtime member of the Mendham Golf and Tennis Club. He loved skiing and kept skiing into his 80's. He was a lifelong NY Rangers fan and NY Jets fan. He loved his dogs, mostly Scottish Terriers. He had a large antique car collection and enjoyed driving them all.
He is survived by his wife Cornelia Cahill Saradarian; two daughters Kathleen Saradarian of Branchville, NJ and Beth Saradarian of Pittsford, VT, and their families; two step- daughters Tara Pfunke of Lebanon Twp., NJ, and her family; and Shannon McGuill of Bernardsville. He is also survived by his granddaughter, Corey Stump & her family; and his nieces Kathleen Keller & Susan Piccinich and their families. He was predeceased by his son Bryan Saradarian.
Visitation was held on Friday Jan 11, 2019 from 5-8 pm at the Bailey Funeral Home, 8 Hilltop Rd., Mendham. Interment was private. For those desiring, donations to the Rutland County Humane Society, 765 Stevens Rd., Pittsford, VT 05763, in his memory, would be appreciated. http://www.rchsvt.org.