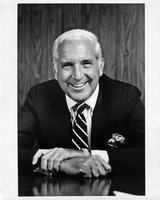 Robert Gardiner
Robert M. Gardiner, "Stretch", of Gulfstream, Florida, a prominent figure in the financial services community, passed away November 3, 2018.
Mr. Gardiner began his long and distinguished career in the securities business in 1946 as a research analyst at A.M. Kidder & Company. He was appointed Chairman of Reynolds Securities in 1974. In 1978, the firm merged with Dean Witter. In 1982, as Chairman and CEO of Dean Witter Financial Services Group, he supported a bold step to launch the Discover Card in 1986. After his retirement he continued to contribute his expertise, perspective and wisdom as Senior Advisor to the firm now known as Morgan Stanley. Mr. Gardiner was admired and respected by his peers and colleagues and served as a mentor to many over the years.
In addition to holding the highest post at one of the top brokerage firms, Mr. Gardiner leaves an enduring legacy through the many important contributions he made throughout his career as a leader and pioneer in the financial services industry. He was the founding Chairman of the Securities Industry Association (SIA) and also served as Chairman of the National Association of Securities Dealers (NASD) and Vice-Chairman of the New York Stock Exchange (NYSE). In these capacities he was a significant force in shaping the world of investing, playing a leading role in the formation of NASDAQ, the world's first electronic stock market. Mr. Gardiner was also the author of an investment handbook for individual investors, The Morgan Stanley Guide to Personal Investing, originally published in 1987.
At 6 feet 7 ½ inches tall, Mr. Gardiner was known as "Stretch" to his many friends and colleagues, and he was a big man in every sense of the word. He had a great physical presence and was a charismatic figure. He was a big supporter of a number of cultural, educational and charitable organizations and was active as a Board Member of The Boy's Club of New York, Trinity-Pawling School, Ethel Walker School, Peck School, Far Hills Country Day School and was a Trustee of the Guggenheim Museum. An avid golfer, sportsman, world traveler, and lover of the arts, Mr. Gardiner was a man of many accomplishments and interests. His warmth and spirited wit enriched the lives of all who knew him. He was a member of Somerset Hills Country Club, The Essex Hunt Club, Blooming Grove Hunting and Fishing Club, The Links Club, The Pilgrims Society, The Bond Club, The Bankers Club of New York, Ekwanok Country Club, Gulfstream Golf Club, Gulfstream Bath and Tennis Club, Vineyard Golf, and the Edgartown Golf Club, Yacht Club and Reading Room.
Stretch was born on November 17, 1922 in Denver, Colorado, the son of the late Margaret MacPherson and Clement E. Gardiner, Jr., and raised on Auburn Farm in Thurmont, Maryland. He attended Trinity-Pawling School and graduated from Princeton University in 1943, after which he joined in the U.S. Army and served as 2nd Lieutenant in Ft. Sill, Oklahoma. From 1944 to 1946 he served as an Artillery Officer in the 78th Infantry Division, with active duty during the Ardennes Offensive (known as the Battle of the Bulge), and he was highly decorated for his combat service with the Silver Star, Bronze Star, Purple Heart and Belgian Croix de Guerre. He later served in the occupation forces in Berlin. Following his military service, Mr. Gardiner began his career on Wall Street that spanned more than sixty years.
Mr. Gardiner was the cherished husband of his wife, Elizabeth, and brother to the late Clement E. Gardiner III of Frederick, Maryland. His beloved son, Peter E. Gardiner predeceased him in 2010. He is survived by one son, Thomas B. Gardiner and wife Donna of Long Valley, New Jersey; his daughter-in-law, Lisa Doyle Gardiner of Chestnut Hill, Massachusetts; two daughters, Margaret M. Gardiner of Cornville, Arizona and Susan N. Gardiner and her husband, Rene Trespalacios of Morristown, New Jersey; a step-son, H. Stuart Valentine and wife Gabrielle of Chester, New Jersey; a step-daughter, Elizabeth G. Valentine of Far Hills, New Jersey; two grandchildren, Alexandra E. Gardiner and Robert M. Gardiner II; and three step-grandchildren, Harrison W. Valentine, Chloe E. Valentine, and Winston W. Valentine. Mr. Gardiner touched the lives and hearts of many and will be greatly missed. Contributions in his memory may be made to The Boys Club of New York, 287 East 10th Street, New York, NY, 10009 or The Trinity Pawling School, 700 Route 22, Pawling, NY, 12564. Private burial in Thurmont, Maryland. A celebration of his life will be held at a later date.