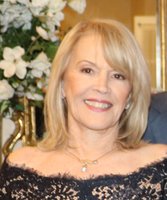 Marion T Ferone
Marion Theresa Ferone, age 77 of Mount Arlington, NJ passed away on Friday, November 2, 2018. She was born to the late Michael Caruso and Ann Doslik Caruso on January 16, 1941.
She is survived by her husband of 59 years, Jerry Ferone, and her three children, Gerard, Michael and Cheryl and her cherished granddaughter Jacqueline, her sisters Annmarie Sariano, Theresa Fare and Patrick Caruso and a number of other loving relatives and close friends.
A loving wife, mother, grandmother and homemaker, Marion was a life force that touched so many hearts. She was a remarkable cook and enjoyed planning social events with her friends and loved planning her halloween parties and especially enjoyed spending time with her granddaughter. She was born in Jersey City, NJ, and lived in Ramsey and Mahwah, NJ for a number of years.
She was an active member of her community and the Women's Luncheon Club at Nolan's Ridge where she resided for the past 10 years.
She will be remembered as a loving, supportive, lively, and inspiration to all those who knew her.
Visitation will be held at the Bailey Funeral Home of Mendham on Wednesday, November 7, 2018 from 2-4& 6-8 pm. A Funeral Service will be held at the funeral home on Thursday, November 8, 2018 at 10am.