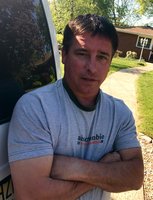 Laurence J. O'Krogly
Laurence O'Krogly passed away on October 25, 2018. He was 51 years old.
Born in Summit, New Jersey, to parents Lawrence and Helen (Zavor) O'Krogly, Larry was one of four children. He was a graduate of Watchung Hills Regional High School in Warren, NJ and eventually began his own business as a master carpenter in Somerset County.
Larry is predeceased by his wife Kristen and his father Lawrence; he is survived by his sons Laurence Jr. and Alec, daughter Gracie, mother Helen, brother Richard, sisters Sondra Doherty and Denise Oyola, grandchildren Madison and Maximus, four nieces and one nephew.
Visitation will be held on Thursday, November 1, 2018 at the Bailey Funeral Home, 176 Main St, Peapack, NJ from 4-8 PM. A funeral service will be held on Friday, November 2, at the Bailey Funeral Home in Peapack at 11:30 AM. In lieu of flowers, memorials are being accepted to assist his children through GoFundMe https://www.gofundme.com/laurence-o039krogly-memorial-fund