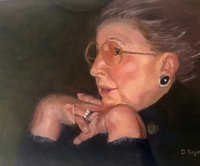 Deborah Seymour
Morristown—Deborah Robinson Seymour, formerly of Morristown, NJ, and Brightview on New Canaan, Norwalk, CT passed away on Thursday September 6th. She was 88 years of age.
She was born in Newark, NJ to Arthur and Isabel Robinson. Debbie was predeceased by her husband, Everett H. Seymour and her sibling Bob. She is survived by her sister Sarah, her children, Everett, Robin and Sloan and her eight grandchildren.
Debbie graduated from Kent Place School and Bradford College. She studied at Moore Institute of Art in Philadelphia. She was an artist in the Morristown area for over forty years. In recent years, her artwork was on display at Studio 7 Fine Arts Gallery in Bernardsville NJ. She was a member of the Pastel Society of America, Salmagundi Club and numerous art associations. She donated her time to Meals on Wheels and other charities. She previously worked at Reader's Digest International Editions in NYC where she was the Advertising Art Director.
Private family burial at Hilltop Cemetery in Mendham, NJ.