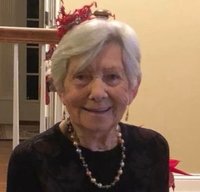 Joyce Mertz
Joyce Mertz passed away peacefully on Sept. 5, 2018 at Brandywine Living in Bridgewater. She was 89.
Born in Linden, NJ to Julius and Marion Eckstein, she lived in Scotch Plains and Fanwood for 37 years, and Wall Twp. for 10 years before moving to Bridgewater 10 years ago.
Joyce was a homemaker and an avid tennis player who also enjoyed reading, traveling, playing bridge and rummikub.
She was predeceased by her husband of 64 years Frank and one son Paul.
She is survived by four children, Connie Richardson of Basking Ridge, Eileen Tierney (Jack) of Warren, NJ, John Mertz (Rose)of Altus, OK and Andrew Mertz (Kelly) of Basking Ridge. She is also survived by 11 grandchildren; Katie, Laurie, Maureen, John, Zachary, Michael, Jason, Olivia, Madeline, Emma and Amanda. She is also survived by 8 great grandchildren.
The family will receive friends on Saturday from 10-11am at St. Elizabeth Church, Far Hills. A Memorial Mass will follow at 11am. Interment in Somerset Hills Memorial Park, Basking Ridge.