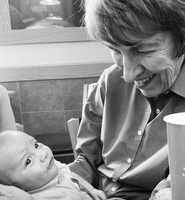 Lois Mae Drysdale
Lois Mae Tiger Drysdale passed away surrounded by her family on August 28, 2018. She was 81 years old.
Lois was born in Basking Ridge, New Jersey, to parents John and Genevieve Tiger. She graduated from Bernardsville High School and attended nursing school for a few semesters before marrying her loving husband Andrew Drysdale. The two moved to Chester 58 years ago and began their family. Lois was a wonderful homemaker and a loving stay-at-home mother to her four children.
Lois is survived by her husband of 58 years, Andrew, sons Andrew and Peter, daughters Susan Moore and Catherine, sister Carol (Tom) Todd, three grandchildren and one great grandchild.
In lieu of flowers, donations can be made in Lois's name to the American Cancer Society, P.O. Box 22478, Oklahoma City, OK 73123.
All services are private.