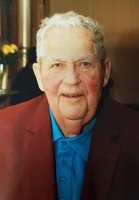 Harry G. Carpenter
Harry Gage Carpenter died at his home in Peapack, NJ at age 89 on August 5, 2018.
Harry was born on February 27, 1929, to Harry G. and Philadelphia M. Carpenter of Moorhead, MN. From 1935 on his family lived in Scarborough, NY. He graduated from Cheshire Academy in 1946, and then spent four happy years at Colgate University, graduating in 1950. He remained a proud, enthusiastic Colgate alumnus all his life, and was Chairman of the University's Presidents Club and a leader of the Maroon Council.
After college he joined the US Army. Following six months of infantry training and six months of OCS, the Army elected to place the newly minted Lieut. Carpenter in the Quartermaster Corps. He was deployed to Korea in 1952-53. There he commanded Supply Point 6, where he immediately straightened out a sloppy and dysfunctional unit that went on to serve 65,000 rations a day, in the combat zone within range of enemy artillery. He received the Commendation Medal from the Army for his service.
Two or three weeks before his deployment to Korea, Harry married Doodie Kirkpatrick of Glen Ridge, NJ. When he returned from Korea a year later, his plane landed at Idlewild Airport in NY. He wrote decades later about his walk from that plane towards the terminal: "Suddenly my eye saw a beautiful girl rushing towards me. We met halfway, hugged, kissed, cried, and enjoyed the most emotional moment of my life." Doodie was his best friend and confidant for 62 years, until her death in 2014.
Harry served for 30 years as Chairman and President of W.S. Kirkpatrick & Co. Intl, a small aviation supply company. His work took him to more than 65 countries and generated an inexhaustible supply of colorful stories. His warmth, interest in people, and humor made him a natural salesman; his guts and insight made him a natural leader. It was a formidable combination, and the company expanded many times over under his leadership.
After he retired, Harry was deeply involved in fundraising for Colgate, the Morristown-Beard School, and the Lamington Presbyterian Church. He founded first the New Jersey Civil War Roundtable and then the New Jersey American Revolution Roundtable, both in Morristown, NJ. He also served as president of The Washington Association of New Jersey for several years. He was for a period the President of The Morristown Club, and he was a member of Glen Ridge Country Club, Essex Fells Country Club, Somerset Hills Country Club, The Essex Hunt Club, and Sankaty Head Golf Club on Nantucket. He also was an avid and skillful tennis player, a sport he enjoyed into his early 80s.
Harry was a great grandson of the famous suffragette Matilda Jocelyn Gage, in which he took great pride, and was major supporter of the Matilda Jocelyn Gage Foundation and its restoration of the Gage Home in Fayetteville, NY.
Harry is survived by his daughter Cary Hughes and her husband Andy, of Tewksbury, NJ; his son Kirk Carpenter and his wife Susie, of Milford NJ; and four grandchildren, who were the apples of his eye: Gage Hughes, Sydney Hughes, Anne Carpenter and Kate Carpenter Labar. Harry's sister Phila Andrews predeceased him, but he is also survived by his niece and nephews, Delphie Andrews Broughton, Gage Andrews, and Hale Andrews. Finally, it was almost impossible to know Harry without becoming his friend, and he thus leaves a large group of surviving friends, near and far, whose lives will be poorer for his death.
A memorial service will be held on October 13 at 11 am at the Lamington Presbyterian Church in Bedminster, NJ. Donations in Harry's memory may be made to this Church.