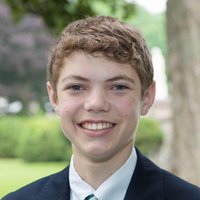 Timothy A. F. Gearty, IV
On Tuesday, July 10, 2018, Timothy Gearty, "Timmy," passed away at the age of 20 after a brave battle with cancer. He was born on December 26, 1997 in Morristown, the son of Linda (Brown) and Timothy Gearty. He attended local schools in his native Mendham before graduating from Delbarton High School in 2016. He was the captain of the Delbarton's bowling team, where he set the high game record in the school's history. He was both a junior and senior dean in his deanery, a privilege bestowed only upon those nominated for the position after exhibiting a strong sense of community, perseverance and a willingness to help younger Delbarton brothers. He was also an enthusiastic member of the ultimate frisbee team, manager of the varsity soccer team, and gifted writer for Delta magazine.
Timothy attended Boston College in the fall of 2016. He immediately threw himself into the experience and joined theUltimate team and wrote for The Stylus of Boston College magazine. In the spring semester, he applied and was admitted to the Freshman League, a program designed to help freshman male students gain access to upperclassmen mentors and explore the city of Boston.
Timothy is survived by his parents, Linda and Timothy of Mendham; sisters, Kristi and Julie, and beloved dogs, Bella, Simba and Brody. He also leaves his maternal grandmother, Diane Brown; uncle A.J. Brown, spouse Jennifer Schlegel; aunt Laura (Brown) Borth, spouse Jim Borth, and their children,Penelope and James; aunt Kristen (Gearty) Reburn of Portland, ME, and her children Dylan, Oakey and Jason Reburn. He is also survived by his countless friends, teachers and caretakers at Children's Hospital of Philadelphia.
He was predeceased by his sister Kelly Catherine Gearty, maternal grandfather Arthur Brown, and paternal grandparents, Helen and Timothy Gearty.
A funeral service will be held on Wednesday, July 18, 2018 at 10:30 a.m., at Delbarton's St. Mary's Abbey followed immediately by a celebration of Timmy's life at Roxiticus Country Club, all are encouraged to attend. In lieu of flowers, the family asks that you consider donations to Children's Hospital of Philadelphia Sarcoma Research Fund by visiting www.chop.edu/giving, selecting "Make a Gift" and writing in Sarcoma Research as the designation or by calling the donor relations line at 267-426-5332. Additionally, checks made payable to the Children's Hospital of Philadelphia Foundation can be mailed to P.O. Box 781352, Philadelphia, PA 19178-1352. Please remember to write "In memory of Timmy Gearty" on the memo line of the check.