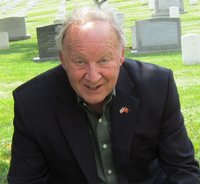 Joseph Edward Armstrong
It is with deep sadness that the family of Joseph Edward Armstrong announces his passing on Tuesday, July 3, 2018, at the age of 86. He was a resident of Succasunna, NJ.
Born on January 7, 1932 in Altoona, Pennsylvania to James and Madeline Campbell Armstrong, Joe was the third of six siblings. Joe married Joyce Burket on June 6, 1955 at the US Naval Academy in Annapolis MD immediately after his graduation from the Academy. Afterward, they were sent on a 'honeymoon' in Hawaii while he served with the United States Marine Corps.
Post his Marine Corps service, Joe and Joy settled in the Philadelphia area as the family added daughter Kimberly and son Scott. In 1972, the family moved to Mendham, New Jersey where Joe worked for Chase Manhattan Bank and then Mars Inc.
Joe is preceded in death by his parents; wife Joyce; brothers James, Louis, Thomas and sister Madeline. Joe is survived by his two siblings Dale Armstrong of Schwenksville, PA and Marlene Armstrong of Fon du Lac, WI; daughter Kimberly of Succasunna, NJ; son Scott [Paula], grandsons Ryan and Declan all of Wilmington, NC; grandson Colin of Succasunna, NJ.
Services will be held at the Naval Academy in Annapolis, Maryland on 28 September 28 at 10 am. Those desiring to make memorial donations in memory of Joe can contribute to Naval Academy Athletic Association [NAAA] – Soccer Sustainment Fund, 566 Brownson Rd, Annapolis, MD 21402 att: Terrance McGowan