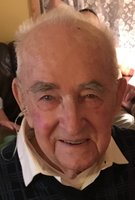 Raymond J. Burghardt
Raymond J. Burghardt passed away peacefully at his home on June 25, 2018. He was 91.
Born in Westfield, New Jersey, to parents Bronislaus and Antonina (nee Pietras) Burghardt, Ray grew up alongside his four siblings before enlisting in the Navy. He served his country as a first class seaman in World War II, from 1945 to 1946. Once returning home, he lived in Irvington before settling into the home he built in Bedminster with his wife Helen (nee Piscatelli) in 1953. Ray and Helen were married for 67 years.
Ray worked as an independent tile contractor and builder before obtaining his real estate license in 1967. Within several years, Ray established his own real estate brokerage entitled Raymond J Burghardt Realty, Inc.
Ray will be remembered by friends and family as a faith-filled man, loving spouse, dedicated father and grandfather, music lover, ballroom dancer, and avid golfer.
Raymond is predeceased by his parents and his siblings Jenny Kurian, Frances Smith, John Burghardt, and Caroline Burghardt; he is survived by his loving wife Helen, his son Raymond Joseph Burghardt of New York, NY, his daughter Diane Fitzgerald of Whiting, NJ, granddaughters Kaitlyn, Megan, Kelly, and Molly, and great granddaughter Elena.
Visitation will be Friday, June 29, from 4 PM to 7 PM at Bailey Funeral Home, 176 Main St., Peapack, NJ 07977. A funeral mass will be held on Saturday, June 30, at 10 AM at St. Elizabeth's Catholic Church,34 Peapack Rd., Far Hills, NJ 07931.