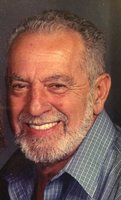 Raymond W. Tamburello, Sr.
Raymond W. Tamburello, Sr., 76 of Mendham, NJ passed away at home on the 5th of May, 2018. Born in Morristown to Mary L. (nee Pinto) and William V. Tamburello. He was predeceased by his sisters Nancy Van Nest of Madison and Rita Rewick of Morristown. He is survived by his sister Mary Ann Artigliere of Madison. He is also survived by his beloved wife of 55 years Miriam "Dolly" (nee Drake) and their four children: Raymond Jr. (Jean) of Spring Hill, TN; David (Donna) of Mendham; Nancy (Raffaele) of Madison; and the Hon. Major (USMC, ret.) Daniel (Melanie) of Manning, SC. Ray also leaves behind 8 cherished grandchildren: Stephen, James, Luke, Caden, Brock, Marianna, Adam, Vincenzo, and many other friends and relatives.
At a very early age, Raymond went to work to help support his family after his father's passing in 1951. He was a self-taught true craftsman and industrial mechanic who became proficient in many trades, and was known for being able to fix almost anything. After being in business for himself, he became a partner at Car Wash Enterprises of Madison in 1968 where worked until he retired.
He was an avid boxing fan and outdoorsman who loved to hunt, fish, and shoot. His real passion was the pursuit of Striped Bass, which he diligently followed in their annual migration along the East Coast. He spent most of his free time in Chatham, MA, where the family established a second home.
In 1986, Raymond was diagnosed with Parkinson's disease, and after 32 years of relentlessly fighting the illness, he finally succumbed to complications from it.
A celebration of life service will be held at Mendham Hills Community Church, 480 State Rte 24, Chester, NJ on 19th of May at 10am.
Memorial donations can be made to the Michael J. Fox foundation in Ray's honor.