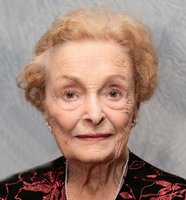 Marjorie Barrie
Marjorie Barrie passed away at home in Charlotte, NC on Sunday, April 15th at Southminster Retirement Center. She was 100. Born in Minneapolis MN to Edith McNeil and Stanley Griswold she was the oldest of four siblings. In October of 1938 she married David Matthew Barrie. They were married for 57 years before his death in 1995.
Marge was a homemaker while her "sales" husband traveled. They had three children; Marjorie (Jory) and David who were born in Los Angeles, CA and later, Catherine, in Kirkwood, Mo.

Marge learned to golf later in life when they moved to Mendham, NJ. She even won the ladies 9-holer trophy at Mendham Golf Club. She was an avid volunteer visiting patients in hospitals and providing transportation for seniors. Her volunteer work awarded her a Morris County Appreciation Trophy.
Church was important to Marge. She attended the Presbyterian Church in Kirkwood, MO and the Presbyterian Churches in Chester & Basking Ridge NJ. After moving to Charlotte, she joined Quail Hollow Presbyterian Church and at Southminster she attended afternoon services and joined the Ladies Chorus.
Marge and Dave enjoyed travel, golf and square and ballroom dancing. They also traveled to many countries. She took many notes and photos for "Shows" with slides or regular film. Marge kept the Griswold and Barrie family together with her writing of thank you notes and phone calls.
In addition to her children Marjorie (Jory) and her husband Christ, and Catherine Barrie and her husband Stuart Berkowitz, she is survived by her grandchildren Frank Koconis (wife, Janet), David Koconis (wife, Kristen) , Catherine Johansson (husband, Marcus), Elizabeth Dusse', Laura Angley (husband, Erik) Joanna Rogers (husband, Peter) Joseph (wife, Megan) Barrie-Schwarz, and Greg Barrie-Schwarz. She is also survived by her great-grandchildren Nathan, Hannah and Sophie Koconis, Lauren and Sarah Dusse', Thomas, James, and Caroline Koconis, Gavin and Caden Rogers, and Adelena, Emma, and Oliver Schwarz and Scott Johansson as well as many nieces, nephews, and great nieces and nephews.
Marjorie was preceded in death by her husband, David M. Barrie (1995), her son, David Stanley Barrie (2006) and his wife JoAnn (2005), her brother Bud Griswold and wife Phyllis, her brother, Frank C. Griswold, and her sister Catherine Donnelly.
A graveside service will be held on April 20th at 9:30 am at the Pleasant Hill Cemetery, Chester NJ followed by a church service at the Basking Ridge Presbyterian Church, Basking Ridge, NJ at 11am.
Marge wishes goodbye and thank you to all her many friends, and family. She looks forward to being with her husband in heaven. In lieu of flowers, donations to Quail Hollow Presbyterian Church, 8801 Park Rd., Charlotte, NC 28210 or The Southminister Foundation, 8919 Park Rd. Charlotte NC, 28210 in her memory would be appreciated.