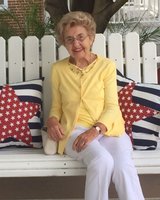 Dorothy M Topping

Dorothy M. Topping, 85, of Mendham, passed away peacefully on April 16, 2018 at Overlook Hospital in Summit, New Jersey. Born in Brooklyn, New York on January 5th, 1933 to Lauretta M. Fitzgerald and Joseph F. Kunsman, she grew up in the Flatbush neighborhood of Brooklyn, where she attended P.S. 203 and Erasmus High School. She graduated from the College of Notre Dame in Staten Island in 1954, and received a M.A. in Education from Hofstra University in 1969. She had an extensive career as an elementary school teacher, and was loved by all of her students. Married to Charles E. Topping Jr., of Brooklyn, New York for 62 years, she lived a life of devotion to family, friends and her faith. After living in Rockville Center, New York for many years, she moved with her family to Longwood, Florida for five years before returning north to Mendham, NJ. A resident of Mendham for 34 years, she became an active member of the Church of St. Joseph and the greater community.

Dorothy's friendly spirit and charm was familiar to all who had the privilege of knowing her. Above all, she loved nothing more than spending time with her family. Her presence was a true inspiration to all, and she will be greatly missed. She was an avid player of Bridge and often enjoyed a game with her friends.

She is survived by her husband, Charles E. Topping Jr., her two children Brian Topping and Kimberly Topping, her daughter-in-law Mimi Topping, granddaughter Elizabeth Gray and her husband Daniel Gray, grandson Jack Topping, and granddaughter Anna Topping.

Visitation will be held at Bailey Funeral Home in Mendham, NJ on Thursday, April 19 from 2-4 and 7-9 p.m. The funeral Mass will be 10 a.m. on Friday, April 20 at the Church of Saint Joseph in Mendham, NJ. Interment will be at Holy Rood Cemetery in Westbury, NY.