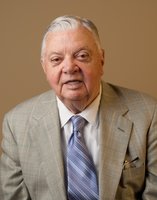 Charles Dennis Smith
Parsippany - Charles D. Smith passed away peacefully in his sleep on Jan 9, 2018. He was 88.

Born in Rochester, NY to Henry and Beatrice Smith. Graduated as a BS ChE from the University of Rochester and married to Carol in 1950. They actively moved around the country following his jobs at Allied Chemical/Honeywell with an extended stop in Moundsville/Glen Dale WV where many of his closest friendships were formed. They finally settled in Parsippany NJ in 1968 when he was transferred to corporate headquarters.

Charles was a loving husband and father who always put his family first, assuring their comfort and success with his guidance and love. He supported their needs and taught them the lessons needed to be successful in life. He was very proud of his children and the fact that they all achieved advanced degrees. With Carol, they kept the family close even as it grew and the children established homes of their own. He loved to socialize with family and friends always looking for opportunities to connect with his network wherever they traveled. They loved spending time at their summer residence in Willsboro, NY on Lake Champlain and often wintered in Marco Island FL. In his leisure time he enjoyed boating, fishing, traveling, bridge, and working on a never ending array of projects around their homes.

He is predeceased by his loving wife of 66 years, Carol and his brothers Elwin and Jack Smith. He is survived by three sons, Dr. Charles D. Smith, Jr. (wife Linda) of Parsippany, David Smith (wife Yolanda) of Rochester, NY and Richard Smith (wife Jenny) of Manalapan; one daughter, Jenny Barbor (husband Reid) of Buckhannon, WV; and one brother, Henry (Joe) of Tampa FL. He is also survived by his 7 grandchildren Laura, Michael, Melissa, Kaitlyn and Trevor Smith, Carly Mriscin, Robert Barbor and 5 great grandchildren Julian, Bela, Anthony, Sophia, and Flora.

A memorial service will be held on Saturday Jan 13th at 3 pm at the Bailey Funeral Home, 176 Main St, Peapack, NJ 07977. For those desiring, donations to the Alzheimer's Association, the American Cancer Society or the Multiple Sclerosis Foundation would be appreciated.