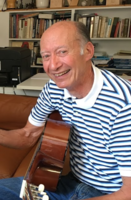 Alan C. Christian
Alan Conti Christian, 76, of Basking Ridge, NJ, died April 12, 2018, at Morristown Medical Center. A former resident of Maplewood, Alan graduated from Columbia High School and Newark College of Engineering [now NJIT] where, as a ROTC cadet, he prepared for service as a USAF officer and pilot. His distinguished military career included three years with Strategic Air Command on Okinawa, flying reconnaissance missions during the Vietnam War. He was honorably discharged as a Captain.
Following his Air Force years, Alan resided in Trumbull, CT, with his wife Betty Ann (Donnelly) and their three sons where he began civilian life with Southern New England Telephone. The family relocated to Chatham Township, NJ, when he transferred to AT&T, where he built a successful 30-year career. Upon retirement, he became a consultant, working and traveling internationally.
Eventually, Alan decided to make a difference for young people as a teacher of math and science at Orange [NJ] Middle School. Music was always his passion, and he formed a guitar club at the school in conjunction with Little Kids Rock. Later, he taught guitar to disabled veterans at the VA Hospital in Lyons, NJ.
Alan is predeceased by his mother, Natalie Conti Christian and his father, Franklin B. Christian. He leaves behind a loving family, Jeff Christian (Liz Rioux) Westfield, NJ, Garrett (Jisook Pyun) Carrborro, NC, and Ted (Staci Reed), Mendham, NJ grandchildren; Amanda, Clara, Lorelei, Veronica, Natalie, and Reed, along with his siblings, Judith and Robert, his long-time companion, Charlene Cavanaugh, and cousins, nieces, and nephews of the Christian, Donnelly, Conti, and Laurino families.
A service will be held on Saturday, April 14th at Bailey Funeral Home, 8 Hilltop Road, Mendham NJ from 12-2 pm with a repast to follow. In lieu of flowers, the family asks for donations to be made to Little Kids Rock at www.littlekidsrock.org.